The shooting at the Balderas station in central Mexico City happened after police stopped Luis Felipe Hernandez Castillo, 38, from writing graffiti on the wall of one of the subway platforms.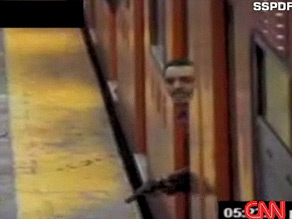 Two people died in the shootout including a police officer. Five of the injured suffered gunshot wounds, and three others were hurt by the stampeding crowds, officials said.
Hernandez Castillo was writing "Este gobierno de criminales," or "this government of criminals," Mexico City district attorney Miguel Angel Mancera said. As police tried to stop him, Hernandez Castillo drew a .38 special handgun and began firing. Castillo as an agriculturalist from the state of Jalisco.
The Mexican government on Saturday posted security camera footage of the shooting. It shows a busy subway platform as the train pulls into the station just before 5:15 p.m. Friday. As the train comes to a stop, there is a disturbance in the crowd, and Hernandez Castillo is seen shooting at an officer. The crowd disperses, and the officer runs out of view of the camera. The officer, who was a bank policeman, is later seen on the footage lying dead, face down on the platform. The footage shows a man in a white shirt running off the train and trying to wrestle Hernandez Castillo. The man chases Hernandez Castillo around the platform. He frequently falls either because he slips or is trying to avoid being shot. The man is on the floor facing Hernandez Castillo, about to get up and try to grab him, when he is shot in the head and falls to the ground.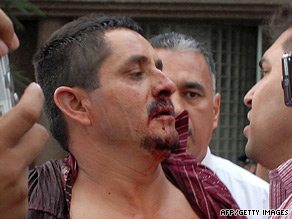 At 5:23 p.m., the camera shows first one, then two, then three plain-clothes police getting into position on the platform. Within moments they rush Hernandez Castillo and pull him out of the train, with nearly a dozen police officers then wrestling him to the ground.
Full report : CNN