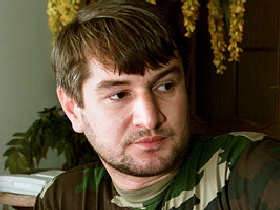 Nearly two months after the apparent assassination of Sulim Yamadayev, his brother has come out with a shocking revelation : Sulim has survived the assassination attempt and is recuperating in a Dubai hospital .

Yamadayev, a former Chechen military commander was supposedly assassinated on March 28th 2009 in the underground parking of a luxury apartment in Dubai. The Dubai Police arrested a few suspects within days and came to the conclusion that the President of Chechyna ordered the killing - something which he animatedly denied.
The Russian consul general in Dubai, Sergei Krasnogor, said: "Dubai police officials, including the police chief, have repeatedly confirmed to me that Sulim Yamadayev had been killed and buried at a local cemetery." Russian diplomats earlier acknowledged they had not been provided with documentary evidence of Sulim's death.
Cities, especially those in the so called 'Third World' countries, often serve as a safe haven for high profile refugees and political figures who need to flee from their country of residence for fear of persecution.
Adolf Eichmann
, an ex-Nazi figure, for instance evaded Nazi hunters for more than a decade by inconspicuously moving to Buenos Aires with his family before Israeli intelligence finally caught up with him. Another Nazi moved to an unlikely refuge - Egypt. Living under a false identity in the most populous Arab country ensured his safety till his natural death in the 1990s.
Yamadayev previously had good relations with the Chechen President Ramzan Kadyrov before their relations soured.
"

The case is clear and there is no confusion over what happened. An organized criminal group was behind the assassination.

"
- Major General Dahi Khalfan Tamim
Dubai Police
Major General Dahi Khalfan Tamim of Dubai Police told Reuters that, Yamadayev was accompanied by two bodyguards when he was killed.
A year earlier, one of Sulim's brothers, a former State Duma deputy Ruslan Yamadayev, was shot to death in Moscow. The Dubai Police said Yamadayev was fatally wounded by a single shot to the back of the head in the basement of his luxury apartment building. A few days after the alleged killing, one of his other brother however, had an altogether different version. According to that version,
Sulim was able to shoot back
at his attacker and survived the attack. There is no doubt on my mind that Sulim is indeed alive. Why else would his brother claim him to be alive ?